Work Example
The key objectives of the project were based on Unity North Shore's desire to optimize its rental space.  UNS authorized Athena Strategic Marketing to share the scope of work (listed below) and the 2 selected charts and graphs from the 40+ page comprehensive report delivered.
Research & Analytic Requirements:
Assess Unity North Shore Facilities Rental Fee Structure
Evaluate Existing Rental Program Marketing Materials & Communication Methods
Assess  Competitive Rental Fees
Strategic Assessment:
Identify Key Rental Targets – By Group/Type
Create Competitive Pricing Structure Hierarchy
Develop Marketing Strategies to Reach Targets – By Group/Type
Rank Critical Marketing Communication Resources
Evaluate Existing Rental Agreement Language and Coverage
Deliverables/Reporting Methods:
Detailed Fee Structure Tables
Historical and Competitive rates
Comparison Charts For Rental Types
Rental Agreement Recommended Changes
Presentation of Findings Summary & Recommendations
Over the last three years Unity North Shore has secured several short term and long-term rentals. The charts below show the most common rental type to be workshops; and memorials were the rental type that garnered the greatest amount of income. Although weddings made up only 4% of total activity it accounted for 13% of the total income [detailed financials removed].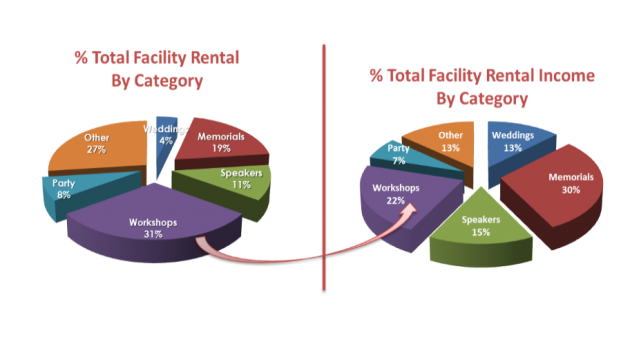 The flow chart was created to begin documenting the rental process and creating institutional knowledge and a source for knowledge transfer to new and future staff.